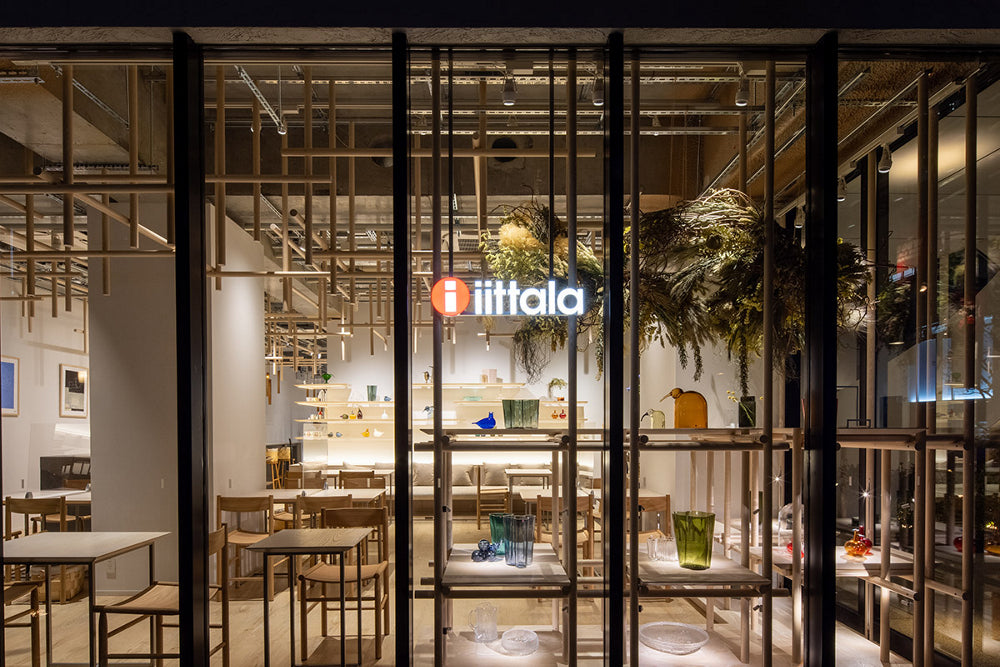 It's an unusual kind of forest. Dozens of "trees" hang from the ceiling, their surfaces flecked with organic lines and nodules — as crafted from tubes of copper-hued glass, mouth-blown by artisans in Finland.
This innovative lighting display is just one of the highlights of the new sunlight-filled Tokyo flagship store and cafe by the Finnish design brand Iittala, which recently opened in the Omotesando neighborhood to coincide with the brand's 140th anniversary.
 Touches of Japan, such as the chidori-style modular ceiling with interlocking white ash wood frames, are present throughout the store thanks to Japanese architect Kengo Kuma's minimal nature-inspired interiors, which provide a crafted backdrop to a cornucopia of Iittala's lifestyle products — from signature quality glassware to ceramics and textiles.
The new flagship is also home to the first Iittala cafe in the world, with a menu packed with Nordic treats including salmon soup and blueberry tarts. Here, customers can use Iittala's tableware creations as they would in everyday life (a discovery I made while sipping a tasty green smoothie from a solidly tactile Kastehelmi glass).
In short? It's a harmonious mesh of all things Finnish and Japanese, which comes as little surprise given the affinities between the two cultures, from a deep-rooted respect for craftsmanship, simplicity and nature to a shared sense of ease with silence in conversation.