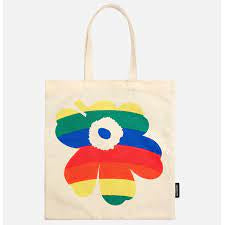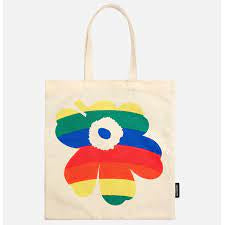 On Sale
Marimekko Huopakeltano Sateenkaari Bag
The Huopakeltano tote bag is made of lightweight, unbleached cotton canvas. The large rainbow-coloured Sateenkaari Unikko pattern flower in the front is printed in Helsinki.
Marimekko will donate to Helsinki Pride for every official Pride 2022 product sold.
The Sateenkaari Unikko print is a fabulous fusion of two classic Maija Isola designs from the 1960s and 1970s. In this modern, contemporary interpretation, iconic blooms meet the impressive arcs of a rainbow.
Marimekko's famous poppy pattern Unikko was born in 1964 in a time when the design house's collections featured mostly abstract prints. Designer Maija Isola wanted to create something interesting from this organic theme and designed an entire range of floral prints. Today, the iconic flower represents creativity.