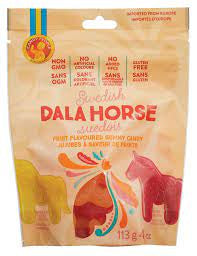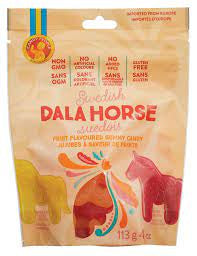 On Sale
Swedish Dala Horse Gummy Candy
Product of Sweden, Imported from Europe 
Dala Horse Gummies - 4 oz. resealable stand up pouch - Assorted Colors - Fat Free Food - Soft and chewy Gummie Dala's candy (113g). Fruit flavored gummy candy inspired by the Dala Horse from Dalarna in central Sweden. These hand-carved wooden toy horses originated in the 16th century but became a famous example of Swedish folk art at the 1939 New York World's Fair. The Dala Horse is now a treasured symbol of Sweden with its distinctive hand-painted ornamentation on a carved red horse.
Ingredients: Sugar, inverted sugar syrup, corn starch, glucose syrup, citric acid, natural and artificial flavors, natural colors (turmeric, cochineal), carnauba wax, coconut oil.
Free of High Fructose Corn Syrup, GMOs, Synthetic Colors, Trans Fats and Gelatin Free